Take a look at some local and international art at these five Saskatoon art galleries.
Reviews and recommendations are unbiased and products are independently selected. Postmedia may earn an affiliate commission from purchases made through links on this page.
Article content
Saskatoon's art galleries feature the works of local and international artists, sharing their perspectives on the world around us.
Here are five gallery exhibitions exploring history through art this month:
Article content
PAVED ARTS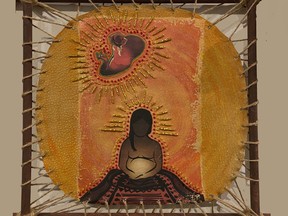 Co-presented by PAVED Arts and Common Weal Community Arts, Truth Art (Re)conciliation runs at PAVED Arts July 14 to Aug. 5.
The group exhibition originated in a three-part community workshop series exploring Truth and Reconciliation, where art and creative expression were used to explore Canada's colonial history. Each of the 14 works was a response to one of the TRC's Calls to Action.
Article content
"This exhibition engages the arts as a tool to explore, critique, and respond to Canada's dark colonial history, and each person's place within it. Everyone is on a different path in their relationship with Truth and (Re)conciliation, and this exhibition opens creative and artistic pathways to take steps forward on their own path," said Lenore Maier, executive director of Common Weal.
Paved Arts is located at 424 20th St. W. An opening reception will be held July 14, 5 to 7 p.m. It is currently open by appointment only, through artistic@pavedarts.ca. Information is available at pavedarts.ca.
WANUSKEWIN GALLERIES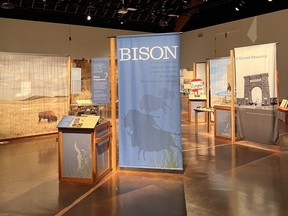 Wanuskewin Galleries feature New Age Warriors by Catherine Blackburn through July and Ancient Pathways: A Bison Biography, toured by the Kauffman Museum on behalf of the National Buffalo Foundation, through August.
Article content
Blackburn blends traditional and contemporary elements into warrior garments as a means to explore cultural identity, memory and history and to show the strength and adaptability of Indigenous women.
"This exhibition is a celebration of the ingenuity of Blackburn's ancestors and the women in her life today," said curator Olivia Kristoff.
Ancient Pathway explores the significance of bison in the cultures of the Plains peoples and the dramatic change brought on by the introduction of new settlers and their livestock.
"Ancient Pathways, A Bison Biography takes a dive into the history of the bison on the Plains as a way to better understand their importance … and how their near-extinction contributed to the grasslands being among the most endangered ecosystems in the world," Kristoff said.
Article content
Wanuskewin Galleries are located at Wanuskewin Heritage Park. Information is available at wanuskewin.com.
THE SASKATCHEWAN CRAFT COUNCIL GALLERY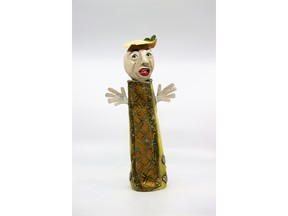 Small Quirks, a group exhibition, runs at the Saskatchewan Craft Council Gallery until Aug. 27.
Gallery members created smaller works in various media to present their interpretations of a quirk. Many works draw on nature, evolution, the fantastic, or our current world state to tell a story or present a concept to the viewer.
"Small Quirks is an SCC members' group exhibition that explores whimsy, curiosity and technique in small craft objects. This exhibition, featuring 71 Saskatchewan artists and 99 works, is chock full of humour, oddities, experimentation, and reflection," said co-curator Steph Canning.
Article content
The SCC Gallery is located at 813 Broadway Ave. Book a personal tour at 306-653-3616 ext. 0 or saskcraftcouncil@sasktel.net. Information is available at saskcraftcouncil.org.
KENDERDINE ART GALLERY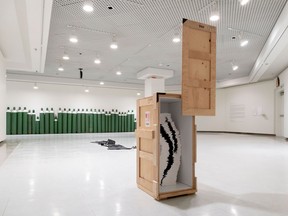 Following Julie Oh's month-long residency at the Kenderdine Art Gallery in May, sesame, open yourself is on display until Aug. 30.
The Saskatoon-based artist utilized found objects to explore the human experience — particularly looking at mortality, labour, faith and freedom. Conceptual readings entangled within the space address the aura of the objects featured in the installation.
"Drawing on an object's transformative potential and aura, Oh's process of deconstructing and isolating pieces within the gallery allows each work to transmit new ideas or readings, asking the viewer to reconsider their own relationship to the object," said curator Leah Taylor.
Article content
Kenderdine Art Gallery is located in the U of S Peter MacKinnon Building, 107 Administration Pl. Information is available at artsandscience.usask.ca/galleries.
GALLERY ON THE GREENS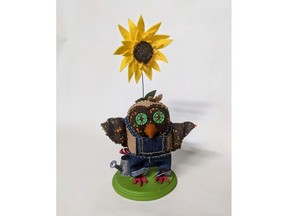 (un)Natural History II by Dawn Rogal is on display at Gallery on the Greens through August.
Hand-stitched fibre works reflect Rogal's view of natural history, both real and imagined. The works include fabrics, fibres, beads and found objects.
"Dawn's work is fun, playful, uplifting and has a narrative that is unique to each viewer that views and interprets them. She embellishes each piece with stitching, beading and a unique style that is all her own. Her work makes you feel joyful and enjoy the enjoying of it," said gallery coordinator Monique Martin.
Article content
The Gallery on the Greens is located in Market Mall, 2325 Preston Ave. Information is available at moniqueart.com.
The news seems to be flying at us faster all the time. From COVID-19 updates to politics and crime and everything in between, it can be hard to keep up. With that in mind, the Saskatoon StarPhoenix has created an Afternoon Headlines newsletter that can be delivered daily to your inbox to help make sure you are up to date with the most vital news of the day. Click here to subscribe.