Keiser University's Flagship Campus recently partnered with the Berlin Consulate General in cooperation with the Stiftung Berliner Mauer (Berlin Wall Foundation) to present a discussion and exhibition titled Border Stations and Ghost Stations in Divided Berlin.
Guests embarked on a fascinating historical journey as Andreas T. Siegel, the Consul General of the Federal Republic of Germany led them through the events that led the German Democratic Republic to construct the barrier during the Cold War, the opening of the Brandenburg gate in 1989, and the eventual demolition of the barrier leading to German reunification in 1990.
Faculty, staff, and students are thankful for the exhibition that highlights the Berlin underground system focusing on the city's division, the underground extension of the Berlin Wall, and living within The Border.
Keiser University is a private, independent, non-profit university serving nearly 20,000 students at 21 Florida campuses, online, and two international sites. Co-founded in 1977 by Chancellor Arthur Keiser, Ph.D., and Evelyn Keiser, Keiser University currently offers more than 100 degrees from associates to the doctoral level. Keiser University is a designated Hispanic-Serving Institution, a member of the Hispanic Association of Colleges and Universities, and was ranked No. 1 in the U.S.in providing Social Mobility by U.S News and World Report in 2023.
Andreas T. Siegel, Consulate General of the Federal Republic of Germany shares insights with Keiser University faculty, staff, and students.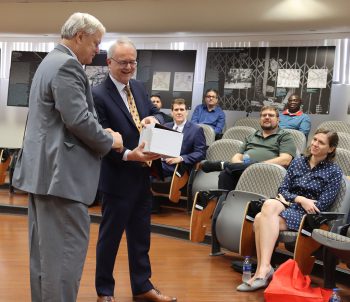 Keiser University Flagship Campus President Dr. Gary Vonk (left) is presented with a Buddy Bear Berlin by Consulate General of the Republic of Germany Andreas T. Siegel